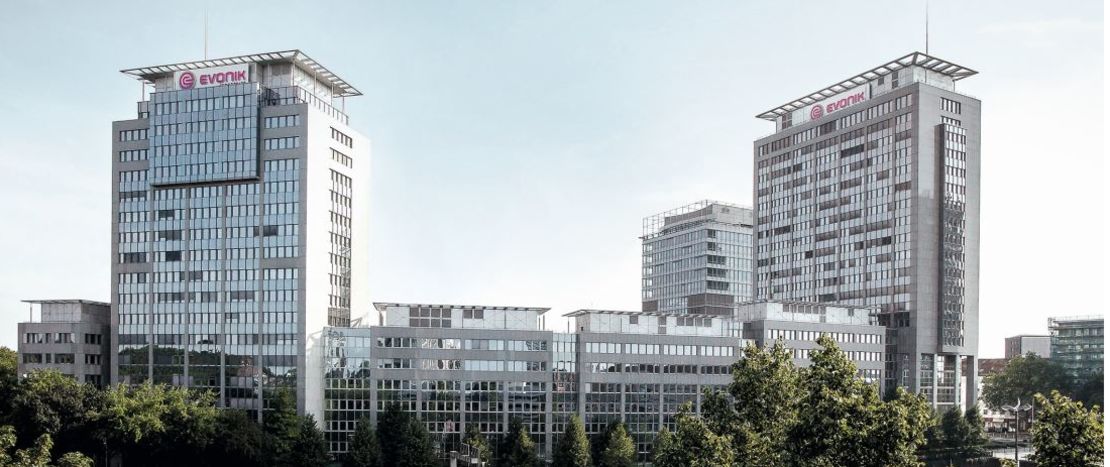 Media
Company portrait
Evonik at a glance
Headquartered in Essen, Evonik is one of the world's leading specialty chemicals companies.
The world is our market: with operations in more than 100 countries across the globe, we earn more than 80 percent of our sales outside of Germany. We maintain production facilities in 24 countries on five continents, making us close to our markets and customers, no matter where they are. Production is carried out on integrated technology platforms for multiple units at our largest production sites in Marl, Wesseling, Rheinfelden, Antwerp, Mobile, Shanghai, and Singapore.

In 2019, around 32,000 employees at Evonik generated sales of €13.1 billion and an adjusted EBITDA of €2.15 billion. The adjusted EBITDA margin came in at 16.4 percent and the free cash flow at €717 million.

We owe roughly 80 percent of our sales to leading market positions, which we are constantly working to expand. Evonik's IPO was in April 2013, and its shares have been listed on the MDAX and STOXX Europe 600 stock exchanges since the fall of 2013.
Success on the market thanks to customized solutions and close partnerships with customers  
Our specialty chemicals products make an indispensable contribution to the success of our customers' products on their respective markets. Using our global production and research network, we work with our customers to develop innovative, tailor-made solutions for their applications—a process in which we always work with an eye to our customers' customers as well.
Innovations drive our profitable growth, which is why market-oriented research and development is firmly anchored in our corporate strategy. Areas where we see important potential for growth are the fields of cosmetics, food and animal feeds, pharmaceuticals, biotechnology, membranes, composites, and electronic materials. We tap into new growth fields through innovation and strategic acquisitions.
The Executive Board focuses on the strategic development of Evonik within the framework of a management holding company. Our operative businesses are divided into three chemical production segments, each led by independent companies working as contractors within the company in close proximity to markets and customers. The fourth segment is the Services Segment, which is largely responsible for site services, process engineering, and administrative services.
Evonik Group structure
The Nutrition & Care segment produces specialty chemicals, principally for use in consumer goods for daily needs, and in animal nutrition and healthcare products

The Resource Efficiency segment supplies high-performance materials for environment-friendly and energy-efficient systems to the automotive, paints, coatings, adhesives, construction industries and many other sectors.

The heart of the Performance Materials segment is the production of polymer materials and intermediates, mainly for the rubber, plastics and agriculture industries.

The Services segment offers services for the chemical segments and external customers at our sites and supports the chemicals businesses and the management holding company by providing standardized Group-wide administrative services.